Saturday 10 April 2010 @ 4:57 pm
Now I've been using this new Nokia N900 for about 2 weeks. Since we all can't live without social networking these days, installing Facebook and Twitter client is one of the first few things I did.
Below are some Facebook and Twitter clients (widgets & web apps too) I would like to share with you all :-
Facebook Widgets
Facebook For Nokia
N900 has a Facebook Widget installation shortcut available out of the box. What you need to do is just go to More and double click it or download it directly from Ovi Store, then install it.
You may add this Facebook Widget to the homescreen to instantly display your friends' status updates. Well, it's only a widget and not practically a client, so there's nothing much you can do with it. The status updates will slide up by itself and you can't even scroll it manually. By tapping the widget, a new web browser window will open loading with facebook.com.
Anyhow, the benefit of installing Facebook For Nokia widget is to enable the Share via Service option in the Camera, Photo, and Media Player applications to allow you share photos and videos in Facebook directly from N900.
Facebook Clients
FaceBrick v0.2.2
The only Facebook Client that I managed to find so far. It's a very basic Facebook Client with some simple features, such as posting status and read comments. Below are the added new feature in v0.2.2 :-
Add a menu item to synchronise comments on a newspost
Add capability to like/dislike a newspost
UI adjustments to be more like Conversations
Show time a post or comment was made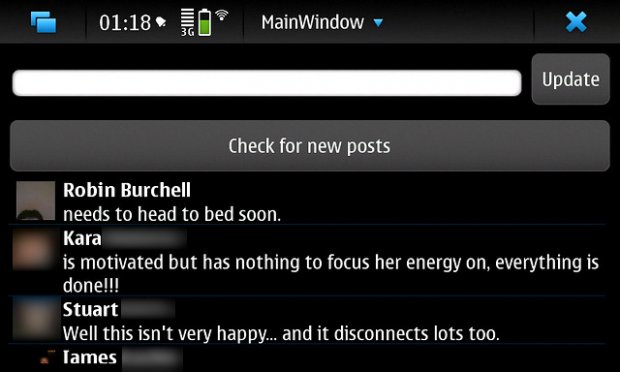 You won't be able to run this application if you do not have root access to N900. To gain root access, you'll need install rootsh (install from Application Manager).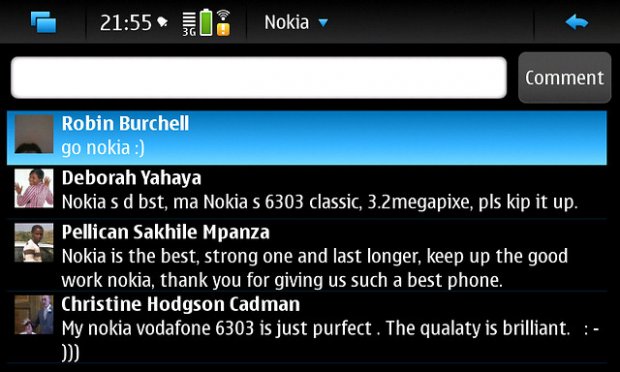 Edit: more details & 2 screen shots from the developer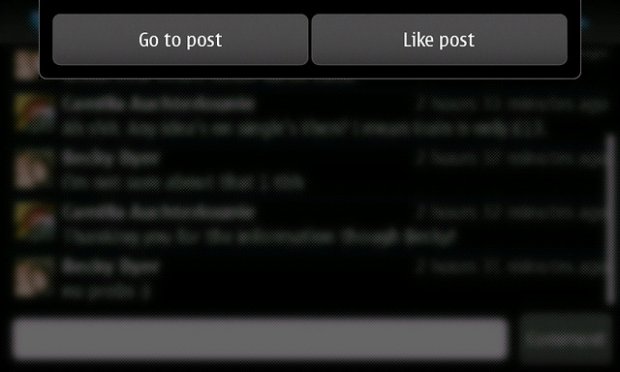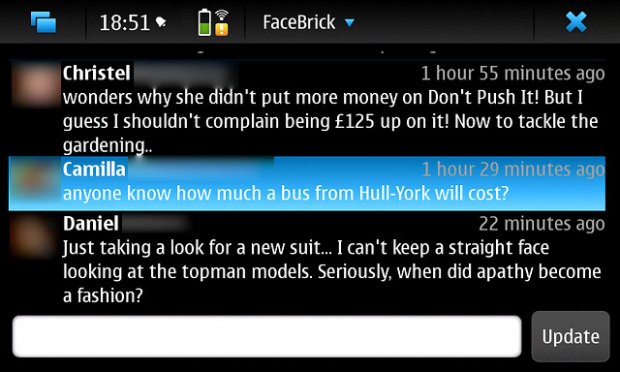 http://w00t.dereferenced.net/facebrick/
Facebook Web Apps
Facebook Lite
If you prefer to use Facebook in the browser, there is a Lite version of Facebook : http://lite.facebook.com
---
Twitter Clients
Witter
I find Witter is the most complete Twitter Client I've seen so far, even though it's still in testing phase. It is feature rich and easy to use.
Below are the main features of Witter :-
Post, reply, reply all and forward tweets, retweet, direct message
Follow and unfollow users
Open links
Search (this is useful!)
URL Shortening feature using bit.ly
Post pictures to Twitpic!
Translate tweets using Google Translate (new browser windows will open)
Witter user interface is customizable
Connect to other micro-blogging services, e.g. Identi.ca.
http://danielwould.wordpress.com/witter/
---
TweeGo 0.2
A nicely designed Twitter Client and packed with lots of feature too.
You can find it in extras-devel repository via Application Manager.
https://garage.maemo.org/projects/tweego/
---
Mauku 2.0
Mauku 2.0 is current in beta testing stage and both Mauku Application and Mauku Widget are available in extras-testing repository.
Some of the useful features of Mauku 2.0 are :-
Homescreen widget displaying twitter updates
Post tweets, reply and forward them
Follow your users
Open links
Connect to micro-blogging services, e.g. Laconica and Qaiku.
Anyway, I noticed it lacks one of the most important features, which is a URL Shortening feature.
http://mauku.innologies.com/
---
Gwibber (will be released soon)
The developer from Gwibber is preparing to release a Twitter Client for N900 very soon. Below is the screen shot revealed in their tweet.
Main features includes :-
Provides a combined stream of all your messages
Automatically shortens URLs as they are pasted
Built-in search tool and support for saved searches
Optional support for spell-checking as you type
Connect to micro-blogging services
Gwibber's user interface is customizable
http://gwibber.com/
---
Twitter Web Apps
You do not need to download or install anything, just browser to the Web Apps URL below and login to it will do. :)
Hahlo
http://hahlo.com/
---
Dabr
http://m.dabr.co.uk/
---
Tweetgo
Don't mix up with TweeGo, Tweetgo is a web application, which you can directly access it from the web browser.
http://tweetgo.net/
Ok, that's all the top 10 Facebook/Twitter clients, widgets and web apps for Nokia N900 from me. Please feel free to add any other apps in your comment.
Have a great weekend, everyone!
Blogsphere: TechnoratiFeedsterBloglines
Bookmark: Del.icio.usSpurlFurlSimpyBlinkDigg
RSS feed for comments on this post
One Response

to 'Top 10 Facebook/Twitter Client, Widget & Web Apps For Nokia N900'
My Nokia N900 - May 31st, 2011 at 9:49 pm

There are some more great Twitter clients namely Twimgo 2.7.1 twitter application from Tommi Laukkanen and Tweed Suit by Mece66.
Powered by Disqus