Archive for the 'Hardware' Category
Monday 30 May 2016 @ 11:52 pm
Which is the one essential item that tops your travel packing checklist? To me, it's the travel adapter if I'm traveling to a foreign country using a different power socket than mine. Gadgets that I usually will bring along are at least my mobile phone, a camera, a tablet and sometimes a laptop if the trip is long. I can't live without these gadgets while travelling and surely can't imagine if all of them run out of battery when I need them.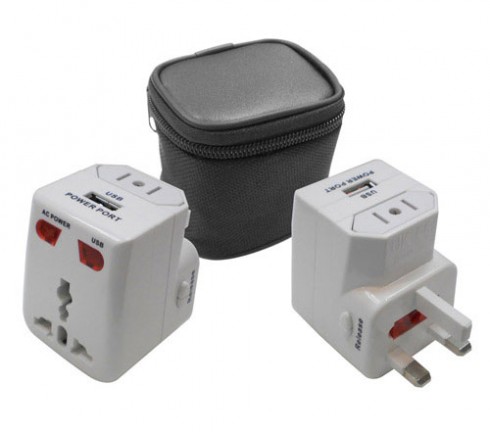 A good travel adapter would be one that is compact, light and can act as a single universal plug converter that will work with any of the four most common power outlets found in:-
1. North America
2. UK, Commonwealth countries & Middle East
3. Rest of Europe
4. China, Australia & New Zealand
It would be an added point if the travel adapter comes with a built-in safety fuse that can protect our devices from short circuit. On top of that, a built-in USB charging port would be handy as well since most of the portable devices we have these days are using USB port for charging.
Head over to this Gift Supplier Malaysia website to shop for a travel adapter that meets all the requirements I mention above. The price starts from RM19.00 each, which is reasonable too. Besides, they have custom branded USB flash drive, Powerbank and Bluetooth wireless speaker for sale as well.
Saturday 9 April 2016 @ 6:16 pm
Huge size with superb image quality is my first impression on this Philips BDM4065UC monitor. Viewing a 40″ monitor at 4K resolution on your computer desk is a totally different experience from viewing a 40″ 4K TV from your couch. Therefore, using a 40-inch display as computer monitor is considerably huge. This impression of huge basically comes from the fact that the viewing distance between the user and monitor (about 0.6 meter away only) is a lot closer than viewing a 40″ TV (optimal distance around 1.5 meter). The monitor is huge but not bulky as its thickness is only 88mm without the stand and the bezel is slim too.
Single Huge Monitor Setup
Albeit some may think 40 inches is a little too big for a 4K monitor, I think the huge screen of this Philips BDM4065UC may be useful for people like photographer, videographer, programmer, architect, graphic designer, accountant, etc. These are the people who need big working space on a computer monitor. If your job needs a lot of scrolling, you probably need a bigger monitor like this one. Besides, the huge 40″ screen with wide viewing angle (up to 176º) is ideal to be used in meeting, presentation, or anytime when you need to split the screen into 2 or 3 or 4 separate screens.
Continue Reading »
Philips BDM4065UC 40-inch 4K UHD Monitor Review – User Experience & Opinion
Saturday 9 April 2016 @ 5:53 pm
Philips BDM4065UC comes with 3 "Smart" features:-
SmartResponse
SmartContrast
SmartImage
Philips BDM4065UC SmartResponse & SmartContrast Features
As mentioned in Part 1: Introduction & Unboxing, SmartResponse feature will make the response rate faster by shifting pixels as quickly as possible. You can set it to 3 speeds, as in Fast, Faster and Fastest. While SmartResponse may solve the ghosting (smearing) effect due to slow response rate, it somehow creates inverse ghosting (trailing of images) as a side effect. All these are only noticeable if you really look very closely.
SmartContrast, as the name itself suggests, allows the monitor to adjust backlight brightness automatically according to the amount of "light" or "dark" in the image on display.
Continue Reading »
Philips BDM4065UC 40-inch 4K UHD Monitor Review – Smart Features & Settings
Saturday 9 April 2016 @ 4:48 pm
This 40″ 4K monitor is huge but it doesn't look bulky thanks to its slim bezel and there's no button on the front. The monitor's dimension without stand is 904mm x 512mm x 88mm and weighs only 8.5KG. It comes with an elegant metal stand that is slim and metallic. However, the metal stand is not adjustable which means the height and angle of the monitor is fixed and you can't even tilt the monitor. It does support a VESA 200mm mount though, so you can fix it to a stand or a wall and it will be more versatile with the flexibility in tilting and swiveling.
Philips BDM4065UC Front Design
On the rear side, the VESA mounting screw holes are in the middle and there are 4 USB 3.0 ports (and 1 upstream port to connect to PC/laptop) on the right side. One of the 4 x USB 3.0 ports is a fast-charging port for quick phone/powerbank charging. There is an AC power port (for power cord) towards the bottom left. A pair of 7-watt stereo speakers is hidden beneath the monitor and face downward. Their frequency range is limited and the bass is not strong enough but it's pretty loud though.
Philips BDM4065UC Rear Design
Continue Reading »
Philips BDM4065UC 40-inch 4K UHD Monitor Review – Design & Connectivity
Saturday 9 April 2016 @ 4:19 pm
"Do you really need such a huge computer monitor?", that's one of the few questions I received when I was reviewing this huge Philips 40-inch 4K LED Monitor (BDM4065UC). Most of the time, I responded with "it depends on what are you using it for?" as an answer. The reason is that if you are using a 40″ 4K monitor for web browsing and Facebook surfing then it's really an overkill. On the other hand, if you are using it for watching 4K movies, coding, photo/video editing, drawing, designing, accounting, meeting presentation, or even light gaming, then a 40″ 4K monitor is a suitable choice for you.
Philips BDM4065UC 40-inch 4K UHD Monitor
Something you need to know
A 4K monitor, such as this Philips BDM4065UC, packs a display resolution of 3840×2160. This is about four times as many pixels as a Full HD (1920×1080) display! Spreading the 4K resolution over a diagonal viewing area of 40" inches will give it a pixel density of 110ppi. So, it's at more manageable level than the 163ppi and 138ppi densities found on 4K screens with 27″ and 32″ monitors respectively. In other words, it means reading text is more comfortable and scaling is practically not needed for Windows desktop applications on a 40″ monitor with 4K resolution.
Continue Reading »
Philips BDM4065UC 40-inch 4K UHD Monitor Review – Introduction & Unboxing
Friday 22 August 2014 @ 5:15 am
Sometimes we face a dilemma in deciding which call plan to subscribe when we are changing our mobile phone plan or switching between mobile network providers (a.k.a. telcos). There are so many different packages and bundles available from each telco and it's really hard to tell which is better. Therefore, here I'm putting all the figures into an organized table for side-by-side comparison and sharing my views on all postpaid call plans (with/without data) from 4 major telcos in Malaysia, namely Maxis, Celcom, DiGi & U Mobile.
I leave Yes 4G out of the comparison even though their user base has been expanding since the launch in 2010 because their WiMax network is not compatible with GSM phones that most of us are using. Besides, I only select call plans without phone bundle in order to keep the comparison simple and straightforward. Please note that only 2 call plans in my comparison are contract based, which are Ultimate Device Plans (24-month) and U Platinum (36-month) by U Mobile. Otherwise, we are free to switch plans at anytime.
Main factors influencing your decision
As we can see from the full table above, call plans from all telcos have limited data quotas which make filtering through these call plans a lot easier. Furthermore, we don't make calls or send SMS as many as we used to, all thanks to the new generation messaging and VoIP (Voice over IP) apps, such as WhatsApp, WeChat, Google Hangout, Facebook Messenger and Skype.
Continue Reading »
Which Postpaid Call Plan (With Data) By Major Telcos In Malaysia Is Best For You?